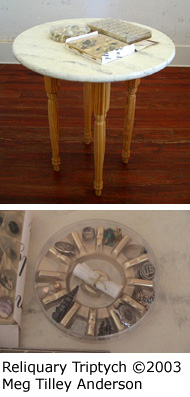 Before moving to family land in Parrott, GA in 1978, Meg Tilley Anderson lived in Colorado and Kansas, and toured America, Mexico, Nigeria and Europe. Travel nurtured her interest in and respect for the diverse populations that make up the natural and civilized world, the subjects in her art.

When she studied with Nilda Getty and received a BFA in Metalsmithing and Jewelry from CSU, Ft. Collins, Co in 1972 Meg couldn't have predicted how useful it would be for life in a rural town with limited resources for the population of 156. With her art education, Meg is able to access the skills to renovate buildings, landscape certified organic food and herb gardens, raise dairy goats and produce cheese, manage woods for wildlife and timber production, run a bed and breakfast guest house, maintain Sound Play's books, participate in economic development initiatives, teach decorative painting and mosaic, paint animal drums, mentor their two children and still find time to create jewelry and found objects sculpture.

Meg was a resident artist through the GA Council for the Arts "Artist in Education" program and in Milledgeville, GA where she designed and installed a garden for Allied Arts Marlor House. Gardens in Parrott compliment the octagonal house designed by her artist father Lewis Tilley. A collaborative effort (with Bond) "Spiraling Cultures, a Garden for all the Senses" received an "Alternate Visions Award" from Alternate ROOTS (Atlanta, GA) in 1995.

Her sculptures have been shown in "Art with a Southern Drawl" Mobile AL, "Bizarre Bizzoso Artist's Market" at The Arts Festival of Atlanta, GA, "A Love Affair", Tifton, GA, "GA Alabama Biennial" Albany Museum of Art, Albany, GA and the 27th Annual Meeting of Alternate ROOTS. Meg's "Sacred Objects" exhibit at GA Southwestern University in Americus, GA instigated the first art show dialogue in the campus paper.

"Sacred Objects" is a series of visual conversations (sometimes humorous) around contemporary values. An example is this earrings parable which is written on the scroll in the middle of the round candy box of Reliquary Triptych © 2003.
Earrings
"Mom gave me a pair of her earrings from our year in San Miguel de Allende, Mexico where we lived so my parents could paint. I don't think Mom got much done with a five-year-old (Eve) and a two year old (me) underfoot. My earliest memory (recalled in a dream and verified by Eve), is of dropping my Day of the Dead sugar skull into the cobblestone gutter in a downpour on the way home from the market. Sad and angry, I cried because our mean criada, Concha, watched it melt but refused to take me back to buy another."
Meg may be contacted at meg@soundplay.com, or visit her web site at
http://www.megtilleyanderson.com.