Bond Anderson
Musician, Designer, Master Craftsman

Bond's master's degree in flute performance laid the foundation to create and design musical instruments for backyards, school grounds, parks and museums, to work with kids and teachers as well as play in the Albany (GA) Symphony Orchestra. His talents as musician, designer and craftsman have made Sound Play one of a handful of companies in America that design and produce musical playgrounds.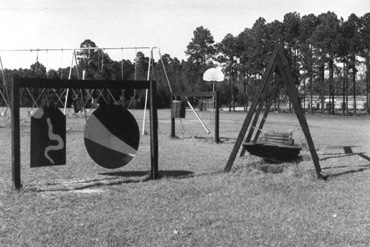 Annie Bell Clarke Elementary School, the first musical playground

Anderson built the first outdoor musical playground in 1982, working with the students of Annie Bell Clarke Elementary School in Tifton, GA. Sponsored by the Georgia Council for the Arts, the National Endowment for the Arts and other agencies, Bond Anderson has been an Artist-in-Education since 1980.

He has conducted hands-on design workshops for the Smithsonian Institution, Cooper-Hewitt National Design Museum in New York and regularly works with teachers across the country.

He is a member of the Community Built Association, the International Play Association and Alternate Roots where he actively supports community empowerment through the arts.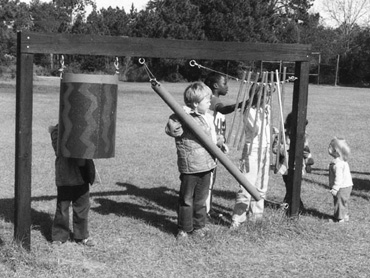 Annie Bell Clarke Elementary School, the first musical playground

His musical playscape at Nevils Elementary School in Nevils, GA, won the Georgia School Bell Award for innovative programming. Portable versions of his outdoor musical instruments were part of the Olympic Flag Transfer Tour in 1992; and a grant from the National Endowment for the Arts funded his designs and instruments for the Art Park in Hillsboro, TX.

Anderson's recent works may be seen and played at the ACE Playground, Invermere, BC Canada; the Ford House Office Building Playground, Washington DC; the Shenstone School, Crayford, Kent UK; the Shriner's Hospital for Children, Greenville, SC; the Bennett Family Center, Pennsylvania State University, University Park, PA; and the Haja Center, Seoul, South Korea.

Bond may be reached at 229-623-5545, or you may send e-mail to bond@soundplay.com.